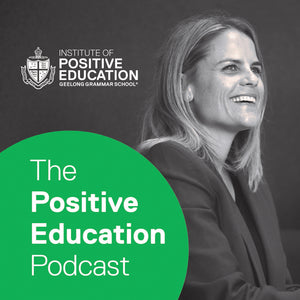 The Positive Education Podcast
Series One (Listen Now)
The Positive Education Podcast engages with experts in the fields of wellbeing and Positive Education, with the aim of having authentic and meaningful conversations about how to cultivate wellbeing for individuals and communities. It is our hope that these conversations provide our audience with tangible strategies to advance Positive Education in their school, as well as to support their own wellbeing.
Hosted by Rhiannon McGee, Head of Positive Education at Geelong Grammar School, Series One is comprised of six episodes covering a breadth of topics, including: cultivating resilience, mindfulness in schools, teaching adolescents the skills of self-compassion, coaching in education and trauma-informed Positive Education.
About our Host
Rhiannon McGee is the Head of Positive Education at Geelong Grammar School, leading the school's wellbeing program across four campuses. Prior to this role, Rhiannon held a range of leadership roles, supported by post-graduate study in wellbeing and positive psychology. Rhiannon is passionate about the promotion of community wellbeing and furthering the field of Positive Education.
You can access The Positive Education Podcast series via our website, or subscribe on Apple Podcasts or Spotify.