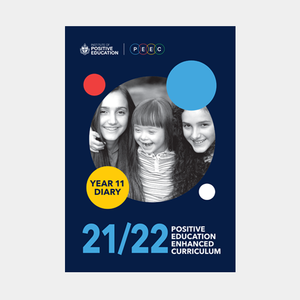 PEEC Diaries
Our PEEC Student Wellbeing Diaries provide your students with research-based wellbeing information and activities to help them flourish throughout the year. With individual diaries created for Years 7-10 (ages 13-16), and new diaries launching in 2021 for Years 11-12 (ages 17-18), we have ensured the content will be age-appropriate and engaging.
The diaries are based on the Institute of Positive Education's Positive Education Enhanced Curriculum (PEEC) – a research-based, explicit Positive Education curriculum that has been developmentally sequenced from Early Learning (four years old) through to Year 12 (18 years old). PEEC is firmly based on the science of wellbeing, underpinned by research in the fields of Positive Psychology and Cognitive Behavioural sciences, and Neuroscience. ​
Our PEEC Student Wellbeing Diaries combine the function and organisation of a normal student diary with research-based materials and activities that align with a different Positive Education theme every week, including Grit and Persistence, Flow, Mindsets, Kindness, Emotional Intelligence, and Physical Wellbeing. ​
Every week, students are provided with:
vital information designed to enhance their wellbeing,
a 'Top Tip' to help them act on this information,
scannable QR codes so they can watch related video content,
a thematic song to listen to,
a 'Random Act of Kindness' idea,
space for notes and drawing,
mindfulness colouring,
an inspiring quote,
space to write 3 good things that happened that week,
smiley-face mood tracker to circle to summarise how they feel about their week, and
a sleep tracker to note how many hours of sleep they're getting each night.