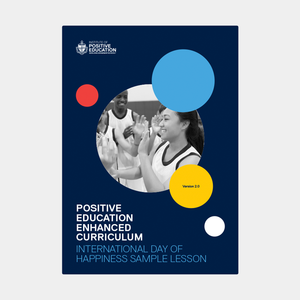 PEEC Sample Lesson: International Day of Happiness
PEEC is an acronym for Positive Education Enhanced Curriculum. It is a curriculum that has been designed to support teachers, and value-add to their practice wisdom and experience in delivering Positive Education.
PEEC encompasses almost 300 lessons from Early Learning (4 years of age) through to Year 12 (18 years of age), including a selection of lessons designed to be taught on special days, such as 'International Day of Happiness' held on March 20.
We hope you enjoy this sample lesson and find our free supplementary resources to be of support. To access this resource, add it to your cart, and check out. You will be sent a download link to the email address provided.
If you would like a closer look at our PEEC curriculum, please visit: teachpeec.com. The follow link will take you to an overview of PEEC. Our FAQs page may also be of assistance. The cost associated with the curriculum can be found here.
For further information about PEEC, or to receive additional samples and information, please contact our team: institutecurriculum@ggs.vic.edu.au.