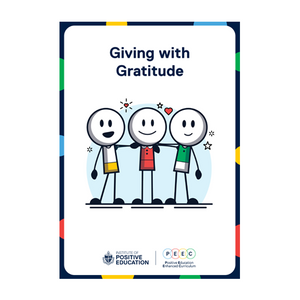 Giving with Gratitude (digital download)
This free booklet contains a poster for display in your workplace or classroom as well as some gratitude quotes for your use. Place one on a colleague's desk, pop the quotes in a jar for students to take as they enter the room, or cut out a quote for a loved one's lunchbox.
We trust these resources will be of support for you and your community as you seek to enhance the wellbeing of the students in your care. 
To access this resource, add it to your cart, and check out. You will be sent a download link to the email address provided.

If you have any feedback about this resource, or any of our other PEEC resources, please let us know at: institutecurricululm@ggs.vic.edu.au.