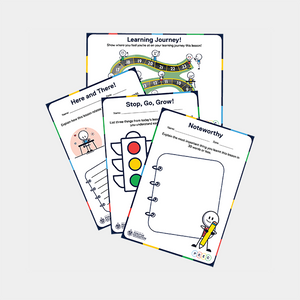 Exit Tickets (digital download)
This booklet includes 28 different exit tickets that are suitable for a range of age groups. Each ticket also has an interactive version that can be used as part of a remote learning strategy.
According to leading educational researcher Robert J. Marzano, exit slips can be used to fulfill one of four purposes:
To provide formative assessment data

To stimulate student self-analysis

To reflect on instructional strategies

To encourage open communication with the teacher.
At the end of your lesson, or before the end of class, ask students to complete an exit slip. Students then hand these in as they exit the classroom or transition to the next lesson, providing you with helpful feedback and information that can guide your interactions with students and inform your next lesson for that subject.
We hope that this resource will be of support for you and your school community. If you have any feedback, or you'd like to suggest ideas for new resources, please contact our team at: institute@ggs.vic.edu.au.
Please note: As this is a digital product, we have provided two different options for purchase.
The 'Individual' licence enables you to use this product with your students but does not enable you to share this resource with another teacher for use with their class.
The 'Whole School' licence enables every teacher at your school to use this product but does not enable you to share this resource with teachers from another school. The PDF will be stamped with details pertaining to the licence option you have selected. Please enter your school's name in the company field during checkout.
 For any enquiries regarding which licence is most appropriate for your context, please contact: institute@ggs.vic.edu.au.