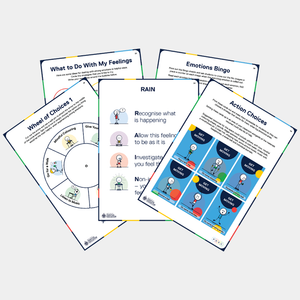 Emotional Self-Regulation Pack (digital download)
This booklet includes a referenced research summary about emotional self-regulation, along with 29 different resources designed for a range of age groups to help support your students' wellbeing. 
The resource is designed to enhance students' ability to recognise and label emotions and scaffold the co-regulation of emotions through hands-on strategies with view to developing students' ability to engage in these practised strategies autonomously or with minimal support.
Research has shown that our ability to self-regulate our emotions has strong ties to academic achievement, positive interpersonal behaviours, good mental health and healthier living practices. Self-regulation also has strong links to resilience.
We hope that the hands-on activities within this resource will be of support for you and your school community. If you have any feedback, or you'd like to suggest ideas for new resources, please contact our team at: institute@ggs.vic.edu.au.
Please note: As this is a digital product, we have provided two different options for purchase.
The 'Individual' licence enables you to use this product with your students but does not enable you to share this resource with another teacher for use with their class.
The 'Whole School' licence enables every teacher at your school to use this product but does not enable you to share this resource with teachers from another school. The PDF will be stamped with details pertaining to the licence option you have selected. Please enter your school's name in the company field during checkout.

For any enquiries regarding which licence is most appropriate for your context, please contact: institute@ggs.vic.edu.au.