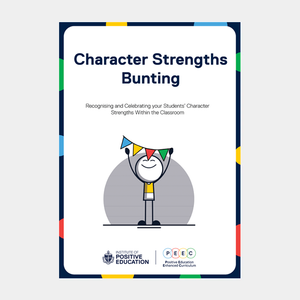 Character Strengths Bunting
Help celebrate your students' strengths with our 'Character Strengths Bunting'. This resource is designed so you can drag and drop a photo for each student onto the bunting, based on one of their self-identified signature strengths. Complete with a research summary and a colourful, engaging design, we hope this resource inspires everyone in your classroom to view themselves, and each other, through the lens of character strengths.
To access this resource, add it to your cart and check out. You will be sent a download link to the email address provided.
If you have any feedback about this resource, or any of our other PEEC resources, please let us know at: institutecurricululm@ggs.vic.edu.au.