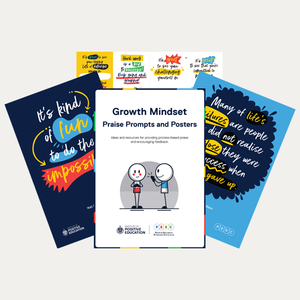 Growth Mindset Praise Prompts and Posters (digital download)
Advances in neuroscience have shown us that the brain is much more malleable than we ever thought. With practice, our neural networks can grow new connections and strengthen existing ones. Research shows that teaching our students about this concept can result in increased motivation and achievement. In addition, the feedback that we give our students can either encourage them to embrace challenges and increase achievement or to look for an easy way out.
 This digital product aims to support teachers' endeavours to encourage their students to develop a growth mindset. It contains ideas and resources for providing process-based praise and encouraging feedback, as well as inspiring students to embrace challenges.
 Inside the digital download pdf, you will find:
a summary about the theory of growth and fixed mindsets,
16 unique and engaging printable growth mindset praise prompts,
10 bright and colourful printable growth mindset posters, and
ideas for using this resource with your students or with your own children at home.
Please note: As this is a digital product, we have provided two different options for purchase.
The 'Individual' licence enables you to use this product with your students but does not enable you to share this resource with another teacher for use with their class.
The 'Whole School' licence enables every teacher at your school to use this product but does not enable you to share this resource with teachers from another school. The PDF will be stamped with details pertaining to the licence option you have selected.
For any enquiries regarding which licence is most appropriate for your context, please contact: institute@ggs.vic.edu.au.