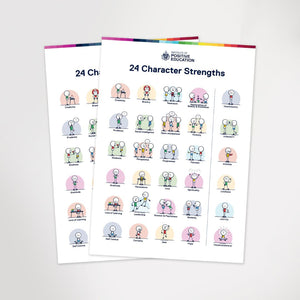 24 Character Strengths Poster
Regular price $14.00 Sale
Researchers have found that one of the greatest positive impacts that comes from learning about character strengths in schools is from teachers knowing and noticing the strengths of their students.   
Here at The Institute of Positive Education we have developed products around Character Strengths to use in the classroom with your students which are designed to promote strengths, use and increase knowledge.  This poster is a new addition to our Character Strengths product range. 
This poster shows all 24 character strengths and separates the six virtues down one side.  Each strength has their own unique figure that depicts the essence of this strength.
Sold in sets of 5 posters, this resource is sure to capture the imagination of your students and provide inspiration when exploring the concept of character strengths.
This poster is also included in the Character Strengths Pack.  Sold separately.
We are currently only shipping to Australia. For international orders or large quantities within Australia, please contact us.