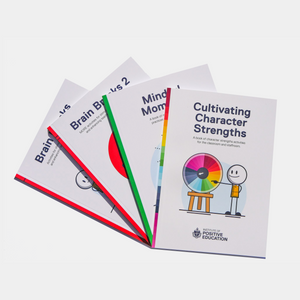 Pocketbook Pack
Regular price $43.80 Sale
Our hugely popular pocketbooks are now available as a pack of 4, containing 1 copy* of each of the following pocketbooks:

Each of these engaging, research-based pocketbooks are designed to enhance both teacher and student wellbeing. Containing summaries of the research and a variety of hands-on activities, these pocketbooks are suitable for a range of ages.
Many of these activities are suitable for both classroom and home environments, and could also be used for remote learning.
Bring some new, fresh ideas with you into your next lesson.
* Other combinations cannot be created in order to create a pack. These packs contain 1 copy of every title. Multiple packs may be purchased.
We are currently only shipping to Australia. For international orders or large quantities within Australia, please contact us.