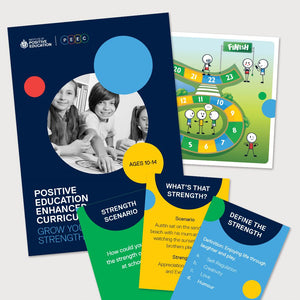 Grow Your Strengths Board Game (digital download)
Designed for ages 10-14, this board game encourages students to explore definitions, examples and scenarios involving all 24 Character Strengths, in order to help further their understanding of these concepts.
 The vibrant design featuring Institute favourite 'Nic the Stick' is fully downloadable and printable. You could even print it on cardboard and laminate the game pieces, using them for years to come.
 This game aligns with our Phase 4 PEEC 'Character Development' lessons, but is also designed be used as a stand-alone resource.
Please note: As this is a digital product, we have provided two different options for purchase.
The 'Individual' licence enables you to use this product with your students but does not enable you to share this resource with another teacher for use with their class.
The 'Whole School' licence enables every teacher at your school to use this product but does not enable you to share this resource with teachers from another school. The PDF will be stamped with details pertaining to the licence option you have selected.
For any enquiries regarding which licence is most appropriate for your context, please contact: institute@ggs.vic.edu.au.