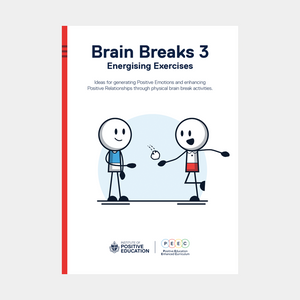 Brain Breaks 3: Energising Exercises (digital download)
We are excited to announce that our brand-new pocketbook, 'Brain Breaks 3' is being released in a digital format, enabling you to use this resource live with your students either virtually or in person! Purchasing a 'whole school' licence to use this book enables any teacher at your school to utilise this resource in their lessons. Your teachers can also embed this content into any student-facing platforms, such as your LMS, and save this copy on your school's network.
'Brain Breaks 3' contains:
25 unique and engaging activities,
an expanded research summary,
colourful and engaging illustrations, and
a variety of 'printable' resources.
This resource is designed to generate Positive Emotions and enhance Positive Relationships while adding some positive energy into your lessons! If you have any feedback about 'Brain Breaks 3', or any of our other PEEC resources, please let us know at: institutecurricululm@ggs.vic.edu.au.
Please note: As this is a digital product, we have provided two different options for purchase.
The 'Individual' licence enables you to use this product with your students but does not enable you to share this resource with another teacher for use with their class.
The 'Whole School' licence enables every teacher at your school to use this product but does not enable you to share this resource with teachers from another school. The PDF will be stamped with details pertaining to the licence option you have selected. Please enter your school's name in the company field during checkout.
 For any enquiries regarding which licence is most appropriate for your context, please contact: institute@ggs.vic.edu.au.